The lyrics is made of lines; one line corresponds to one page. Each line holds a set of karaoke syllables, small phonetic units attached to notes. Lines are separated by line breaks.
To navigate or select notes:
Select a note in the note sheet.
Select a syllable in the lyrics area. The full line is shown.
Use cursor keys to move through lines (up, down) and syllables (left, right).
You can jump to the first or last syllable in the line (Home/End) or lyrics (Ctrl-Home/End).
Select multiple notes by dragging ranges (button 1) or rectangles (button 2), or by pressing Shift-Up/Down.
Selections can span multiple lines.
Select the entire line with Ctrl-A, or double-click it, or click its line number.
Type a line number to jump to a specific line.
By default, you select notes by clicking. Hover selections ('mouse-over') can be activated in the preferences.
Zoom
Selections always result in a full-line zoom. If you want to scroll the timeline smoothly without triggering a zoom, drag the background above/below the note sheet.
To modify the line range that is zoomed to:
Select multiple syllables.
Drag the line numbers in the lyrics area.
Press Page-Down/Up to increase/decrease the number of pages shown
Press Ctrl-PageDown/Up to zoom to one page / all pages.
Icons:

Increase #pages,  

Zoom to one page
In single-line zoom baselines for all lines are aligned to one level. This fits each line vertically into the view. When you want to compare absolute note heights, switch to a multi-line range (or press L in single-line view).
Playback
To play the
selection: press Space
moment before the selection: press B
moment next to the selection: press N
page: press P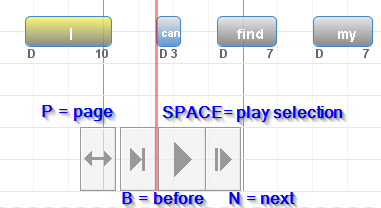 You can rehear audio, midi instrument and ticks  simultanously / individually. Ticks mark the exact note location. They help finding the correct rythm. The midi instrument helps finding the correct melody. It has has a short delay and cannot be used for finetuning.
Hold Shift to play the instrument (Shift+Space, or Shift+P).
Hold Ctrl to play instrument + audio (Ctrl+Space, or Ctrl+P).
You can also toggle audio/instrument/ticks permanently (see menu).
---
Next page: Beats