The lyrics is made of lines; one line corresponds to one page. Each line holds a set of karaoke syllables, small phonetic units attached to notes. Lines are separated by line breaks.
To navigate or select notes:
Select a note in the note sheet.
Select a syllable in the lyrics area. The full line is shown.
Use cursor keys to move through lines (up, down) and syllables (left, right). The up/down buttons also move through lines.
You can jump to the first or last syllable in the line (Home/End) or lyrics (Ctrl+Home/End).
Select multiple notes by dragging ranges (mouse button 1) or rectangles (mouse button 2), or by pressing Shift+Up/Down.
Selections can span multiple lines.
Select the entire line with Ctrl+A, or double-click it, or click its line number.
Type a line number in the lyrics area to jump to a specific line.
By default, you select notes by clicking. Hover selections ('mouse-over') can be activated in the preferences.
Zoom / Scroll
Selections always result in a full-line zoom. If you want to scroll the timeline smoothly without triggering a zoom, drag the background above/below the note sheet, press the left/right arrow buttons, or the H/J keys (+Shift=faster).
To modify the line range that is zoomed to:
Select multiple syllables.
Drag the line numbers in the lyrics area.
Press Page-Down/Up to increase/decrease the number of pages shown
Press Ctrl+PageDown/Up to zoom to one page / all remaining pages.
Press Ctrl+Shift+PageDown/Up to zoom to one page / all pages.
Icons:

Increase #pages,

Zoom to one page
In single-line zoom baselines for all lines are aligned to one level. This fits each line vertically into the view. When you want to compare absolute note heights, switch to a multi-line range (or press L in single-line view).
Playback
To play the
selection: press Space
moment before the selection: press B
moment next to the selection: press N
page: press P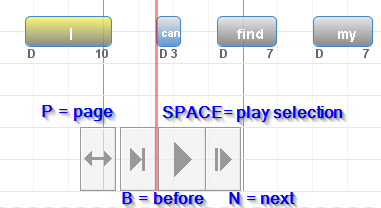 You can rehear audio, midi instrument and ticks simultanously / individually. Ticks mark the exact note location. They help finding the correct rythm. The midi instrument helps finding the correct melody. It has has a short delay and cannot be used for finetuning.
Hold Shift to play the instrument (Shift+Space, or Shift+P).
Hold Ctrl to play instrument + audio (Ctrl+Space, or Ctrl+P).
You can also toggle audio/instrument/ticks permanently (see menu).
Icons:

Enable/Disable instrument
---
Next page: Beats